---
---
---
Read:
DAD & I
excerpts from
An inside look at the publishing world as seen by Charles Nuetzel, editor, packager, publisher and to buy the book
click cover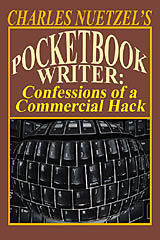 ---
More author material
Pen Names

SILLY PLACES
Some bio more bio stuff.

---
---
MY BOOKS NOW ON SALE
Published by




Borgo Press

an imprint of

Wildside Press.
Direct Access to

SEE THE FULL COVERS
---
Author - Publisher -

Packager - Editor
I was lucky enough not only in selling my work to publishers but also ending up packaging books for some of them, and finally becoming a "publisher" much like those who had bought my first novels. From there it was a simple leap to editing not only a sci-fi anthology, but a line of sci-fi books for Powell Publications. Throughout these active professional years I had the chance to design some covers and doing graphic cover layouts for pocket books & magazines.
Some of the experiences I had during these years are detailed in the articles listed on this page. In the last years it has become possible to re-release some of my stories and novels in e-book form, showed below.
---
In the tradition of ERB...
Torlo Hannis wakes up on the planet of Noomas, without memory of any past life, yet aware that he comes from a vast inter-galactic civilization. Noomas is a savage world of city states.


These two started the Noomas Saga:

Reprinted in one volume by Borgo Press, which has just released its long awaited sequel, written with Heidi Garrett.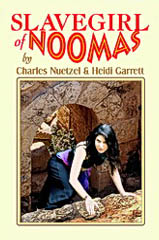 ---

SWORDMEN OF VISTAR
by Charles Nuetzel

With added new special Epilog!

A romantic sci-fi adventure in
30,000 BC!
Thoris of Rota taunts death, magic and Xalla the Wizard's domain to protect beautiful Princess of Haldolen!
Original Pocketbook Wildside Press Cover
---
This book has been revitalized and almost doubled in size from its original hardcover publication as "Last Call For the Stars" with its proper title in place.


Borgo Press Cover


They had escaped old age and gained immortality on a savage alien world. Now could they survive?

---
Personal e-book cover
---



My


E-BOOK RELEASES
AT NOOKBOOKS
Short stories and novels by
Charles Nuetzel

PDF file of my online
ebooks Covers

MY E-BOOKS AT
NOOK BOOKS

---
IMAGES OF TOMORROW
click pic for main index
This art is based on the cover painting created by Albert A. Nuetzell for a collection of 13 stories that I dedicated to my wife, titled: "Images of Tomorrow" (it contained a short novel "The Ersatz" as its main center piece).

The original pocket book cover.

---

And the original art for
Images of Tomorrow.

For "Adapt or Die" I used the back cover of "Images of Tomorrow" as a mock jacket for a "printed" personal edition of the book.

This was the last cover art dad did for any of my books. He died a month before man set foot on the moon.

---
The feature novel was originally published as "Lovers: 2075" by Charles English, (one of my pen-names) in somewhat different form, and then released in Belgium as:
---
---
Sign My Guestbook

View My Guestbook
or
E-mail me direct:
Charles Nuetzel